OSOYOO Model 3 Robot Car DIY Starter Kit for Arduino UNO Model#2019015200
Shipping Policy | Refund Policy


Features:
HEAVY DUTY, PREMIUM CONSTRUCTION: We are the only Canadian Owned Science Fair Supplier, Circuit Builder, IOT, Autonomous Smart Machine, Home Electronics Workshop and Arduino Accessory Company, and we are Engineers and Programmers Ourselves, So We Know How Important It Is To CREATE Your Dreams! Not All Robot Kits Are Created Equal: Pay For True Quality & You Will Not Be Disappointed. Thanks for your support - you'll hear from us as soon as you order.


DESIGNED & ENGINEERED BY JAPANESE ROBOTIC EXPERTS: Japan has long been known as the automation capital of the world. This is why we enlisted top-of-the-line Japanese robotics experts to assist in the design, engineering, coding and testing of the OSOYOO Model 3 robotic car system. Follow the included step-by-step tutorial and watch your kit grow from a simple pile of parts, to a highly functional, adaptable and versatile robotic car with multiple functions you won't find anywhere else.


SIMPLE, INTELLIGENT, FUN PROJECT: Control your OSOYOO Robot Car System by Android and iOS App, allowing additional functions such as imitation driving, auto driving, and speed control. Our newest robot kit includes many upgraded benefits that cheap knockoffs simply can't compete with including: line tracking, object motion following, and obstacle avoidance. Our new Model 3 technology supports various projects that you'll only find in robotic kits that sell for twice the price.


THE BEST VALUE PACK ON: This Ultimate STEM Gift Bundle Includes Everything You Need To Build & Engineer Your Own Robotic Car: Basic Board for Arduino R3, Model X Motor Driver Module, Sensor Shield V5.0, Bluetooth Module, Ultrasonic Sensor & Holder, Servo Motor, 3 Line Tracking Modules, Buzzer Sensor, Infrared IR Remote, Receiver, & Transmitter, 9V Battery Box, Voltage Meter, Acrylic Car Chassis, 2 Wheels, 2 Motors, 2 Motor Holders, Jumpers, Cables, Screws, Nuts and Phillips screwdriver.



PROGRAMMABLE LEARNER KIT FOR BEGINNERS AND PROFESSIONALS: The OSOYOO Model 3 Robot Car Kit is compatible with the Arduino UNO R3 board. Great for any skill level — whether you're a pro or beginner. Assembling the Model 3 kit will teach you to create circuits, program sensors and actuators, learn about the Internet of Things (IoT) and get hands-on programming, coding, electronics and robotics experience. This kit makes it simple to create and program an advanced robotic system. Let's get started!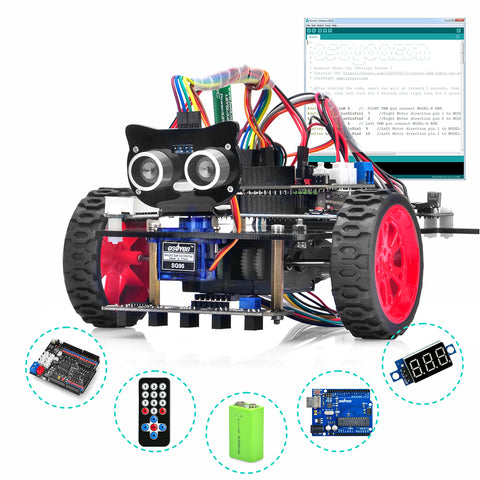 The kit does NOT have battery. You need to buy 9V battery and charger from your local shop. Or if you are in USA, you can buy full package robot car which comes with battery and charger from following link:

product tutorial link: https://osoyoo.com/2020/05/22/osoyoo-model-3-v2-0-robot-learning-kit/